Linking Users allows you to link up to 1,000 accounts to your Indeed employer account and designate roles and permission levels for each user. This lets your co-workers, fellow recruiters or hiring managers access your account with their own email addresses.
To add an account:
Visit

www.indeed.com/hire

and log in.

Once logged in, click

"Users"

from the menu in the upper right-hand corner of the screen.

Click "

Invite User

" on the right to add new users.

Select the role you would like to assign each new user.

(

See below for access details.)

All email addresses that you link are required to have an Indeed account. If the email address you link does not have an account with Indeed, the user will be prompted to create one.

Click "Invite User."

This will send an email to the email addresses you specified inviting your colleagues to use your Indeed account.

This email may take 5-10 minutes to send.  

You will be able to see sent invites in the "Pending Requests" tab.

Once the person who uses that email opens the email and accepts your invitation, his or her email will appear in the "Users" list.

You can edit their permissions, or remove them from your account on this page.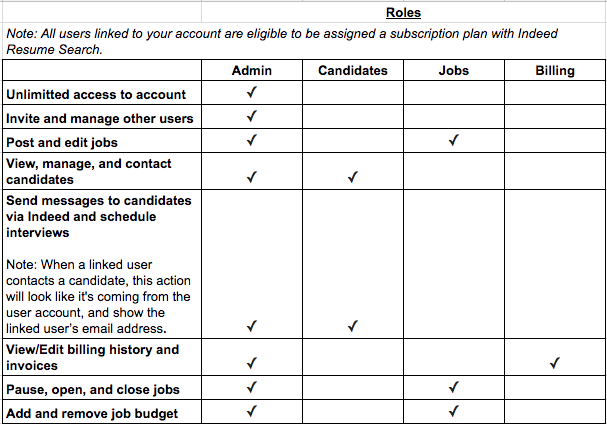 Any user with Administrator access can remove budget, link, or unlink users at any time.